We oppose DRM.
We are a participatory and grassroots campaign exposing DRM-encumbered devices and media for what they really are: Defective by Design. We are working together to eliminate DRM as a threat to innovation in media, the privacy of readers, and freedom for computer users. Our actions involve identifying and targeting defective products, pressuring media retailers and hardware manufacturers to stop supporting DRM, exposing the immense concentration of power over media created by DRM, and raising awareness of DRM to libraries, schools, and individuals around the world. More about Defective by Design.
Digital Restrictions Management is technology that controls what you can do with the digital media and devices you own. When a program doesn't let you share a song, read an ebook on another device, or play a game without an internet connection, you are being restricted by DRM. In other words, DRM creates a damaged good. It prevents you from doing what would normally be possible if it wasn't there, and this is creating a dangerous situation for freedom, privacy and censorship. Click here to learn more.
Defective by Design has been protesting against DRM since 2006, and we've have had major success in the area of music. All major record labels have given up trying to enforce DRM schemes on music, but DRM is becoming a stronger force in ebooks, videos, and gaming. If we want to end this exploitative and anticompetitive practice, we must do something. Click here to take action.
Who's using DRM?
The latest news on DRM and DRM-free products and services. Subscribe to our RSS feed or follow us on Identi.ca
Stepping it up as W3C takes the next step towards the Hollyweb
Submitted by zakkai on Thu, 2013-05-09 14:56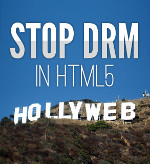 Last Friday, we made a powerful statement to the W3C by delivering the verified signatures of over 22,500 people against Encrypted Media Extensions (EME), Big Media's proposal to incorporate DRM support into HTML. Today the W3C advanced EME one step further in their approval process, to "first public working draft." This doesn't mean we've lost, but it shows that the media and software companies behind EME are not giving up, and that we need to keep pushing.
We published a press release today condemning W3C's move and promising to release an in-depth rebuttal to the shallow arguments that W3C CEO Jim Jaffe is using as justification for EME.
While we get ready to publish our rebuttal, there are two things you can do to help us keep the pressure on:
Donate to Defective by Design through the FSF. $15 or $30 is enough to help fuel our growing campaigns team and keep us on the offensive against the well-funded corporate lobbyists gunning for DRM.
Join the W3C's public discussion list for EME and make your opinion heard. Follow this link and click "[subscribe to this list]" in the "Mail actions" line. You can also join the W3C's Restricted Media Community Group. Remember, calm but strong statements are more powerful than nasty criticism. For inspiration, check out the the joint letter Defective by Design and 26 other organizations wrote against EME.
This is shaping up to be one of the biggest disputes in the W3C's history, and for good reason. Incorporating DRM support into HTML would cause a lot of problems for users of the Web, from damaged software freedom to even more accessibility problems for users with disabilities. That's why we are going to keep finding ways to show the W3C that they need to represent the Web-using public, not just Netflix. Please donate and join the discussion list.
Continue reading 'Stepping it up as W3C takes the next step towards the Hollyweb '.