We oppose DRM.
We are a participatory and grassroots campaign exposing DRM-encumbered devices and media for what they really are: Defective by Design. We are working together to eliminate DRM as a threat to innovation in media, the privacy of readers, and freedom for computer users. Our actions involve identifying and targeting defective products, pressuring media retailers and hardware manufacturers to stop supporting DRM, exposing the immense concentration of power over media created by DRM, and raising awareness of DRM to libraries, schools, and individuals around the world. More about Defective by Design.
Digital Restrictions Management is technology that controls what you can do with the digital media and devices you own. When a program doesn't let you share a song, read an ebook on another device, or play a game without an internet connection, you are being restricted by DRM. In other words, DRM creates a damaged good. It prevents you from doing what would normally be possible if it wasn't there, and this is creating a dangerous situation for freedom, privacy and censorship. Click here to learn more.
Defective by Design has been protesting against DRM since 2006, and we've have had major success in the area of music. All major record labels have given up trying to enforce DRM schemes on music, but DRM is becoming a stronger force in ebooks, videos, and gaming. If we want to end this exploitative and anticompetitive practice, we must do something. Click here to take action.
Who's using DRM?
The latest news on DRM and DRM-free products and services. Subscribe to our RSS feed or follow us on Identi.ca
International Day Against DRM 2013 sent a message
Submitted by libby on Mon, 2013-05-20 14:13
The seventh annual International Day Against DRM featured a glamorous
petition delivery, awareness-raising events on three continents, and
ebook sales from prominent DRM-free publishers. Some of the Day's
highlights included:
In Bangladesh, FOSS Bangladesh took their message to the street with large banners featuring the "Stop the Hollyweb" message.
In Seattle, FSF staff and volunteers handed out information to shoppers at a clutch spot between both an Apple store and a Microsoft store until security forced them to leave, at which point they moved to the University of Washington campus to continue.
In Boston, the Free Software Foundation delivered an "Oscar" and tens of thousands of signatures opposing DRM in HTML5 to the World Wide Web Consortium (W3C).
Online, publishers like O'Reilly and No Starch Press offered discounts on DRM-free ebooks to honor the Day.
Thank you to everyone who participated!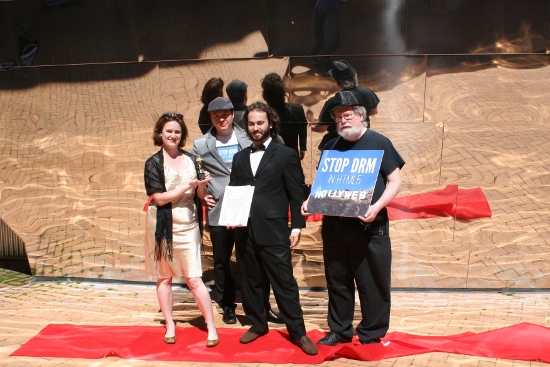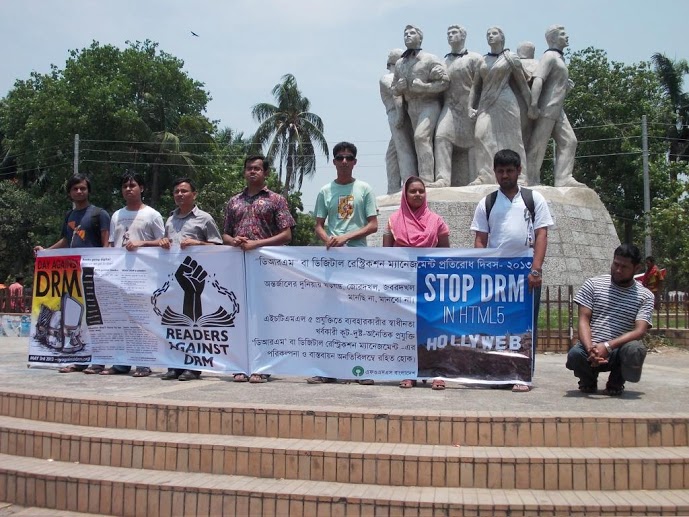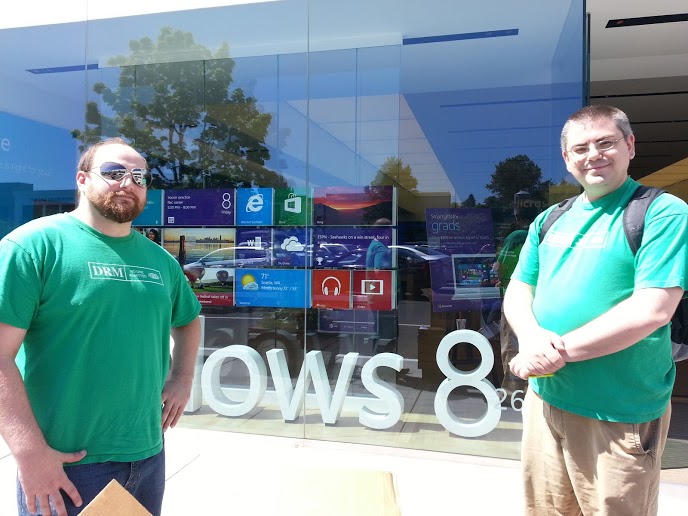 Join the DRM Elimination Crew and help plan the 2014 Day Against DRM
International Day Against DRM 2014 will be held Tuesday, May 6th, 2014. To be notified of Day Against DRM events in your area, be sure to sign up for the announcement mailing list.
International Day Against DRM is an important time to come together to show our strength, but the fight to eliminate DRM is year-round. That's why we're launching a new discussion list for volunteers who want to get more involved in the grassroots effort to eliminate DRM. The discussion list will be instrumental in organizing next year's Day Against DRM events, and will help the Defective by Design staff with ideas and on the ground support throughout the year.
Continue reading 'International Day Against DRM 2013 sent a message'.