ebooks
DRM Weekly News
Submitted by sarahmac on Tue, 2009-08-04 14:26
Join Amazon authors' "drmfree" effort
Submitted by JohnSullivan on Wed, 2009-04-15 07:55
DefectiveByDesign activists have been tireless in finding and labeling DRM-infected products on Amazon with tags like "defectivebydesign" and "drm".
35 Days Against DRM -- Day 3: Overdrive
Submitted by mattl on Wed, 2008-12-03 14:39
From the arrest of Dmitry Sklyarov in 2001 to our protest at the Boston Public Library earlier this year, the issue of DRM on eBooks and audiobooks is not a new one. OverDrive continues to push DRM on library patrons and libraries.
Naxos
A variety of contemporary and classical audio books, without DRM and in the MP3 format.
The Kindle Swindle
Submitted by JoshuaGay on Wed, 2007-12-12 07:36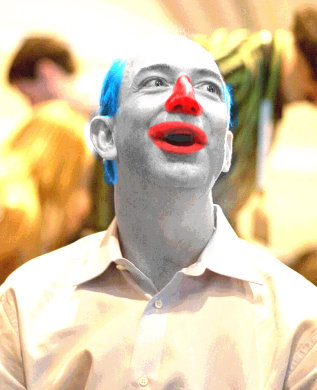 Jeff Bezos, CEO of Amazon.com - Photo by O'Reilly at Flickr
Wired on EBooks
Submitted by Gregory Heller on Fri, 2007-04-27 09:50
Wired has a good blog post up about ebooks and how DRM has stymied adoption, "The why of that has many faces, but DRM plays its part. Taking a historically commonplace form of expression, freely portable in its traditional format, and turning it into an ephemeral, hardware-specific, proprietary service?"