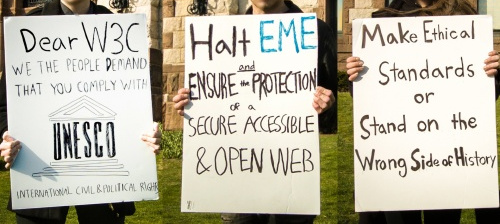 Signs from a demonstration at Cambridge, MA city hall last week.
The inventor of the Web is considering allowing corporate interests to change its underlying technology, extending their ability to control users' computers with DRM (Digital Restrictions Management), undermining Internet freedom, and exposing people to surveillance and criminal threats online.
As Web inventor Tim Berners-Lee considers this decision, people around the world are placing hundreds of phone calls urging him not to allow the change. Now a small artist-led group called Ethics in Tech is taking it to the next level—this Saturday, they will march to Berners-Lee's office in Cambridge, MA, to demand he heed the call of human rights groups, tens of thousands of Web users, and his fellow Web pioneers: reject DRM in Web standards and stand up for the free, fair Web that everyone except a handful of big companies wants.