On Tuesday, May 6th, 2014, the world comes together to say no to Digital Restrictions Management. See how you can get involved or learn more about DRM.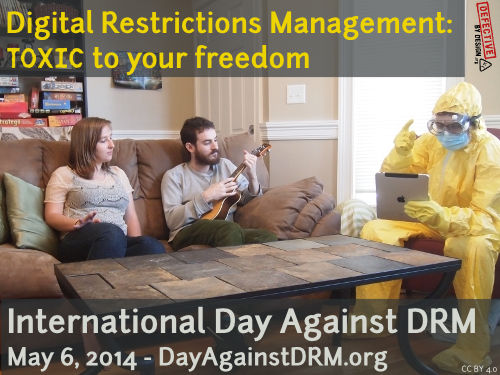 During the last year, we've seen Digital Restrictions Management creep farther into the world of technology (including coffee makers and cars), even as we build a stronger and stronger community to fight it. A growing number of people are living within a box constrained by DRM without even knowing it. The future is DRM in everything, if we don't do something.
What you can do to get ready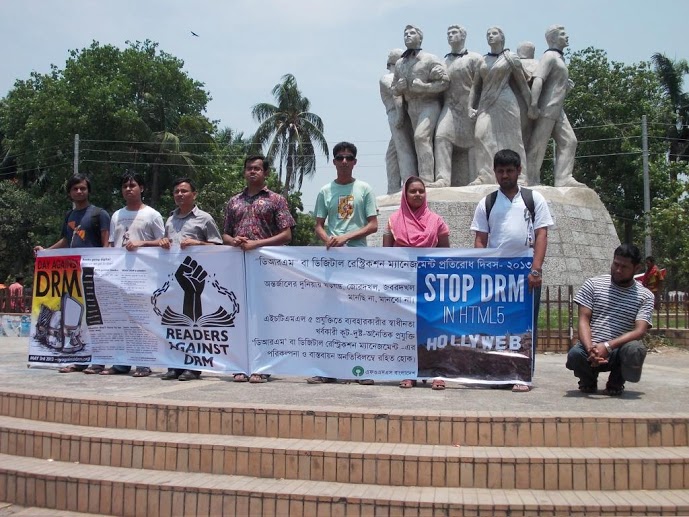 Join the announcements list to stay posted on actions, events in your community and more.
Share one of our HAZMAT suit graphics on your social networks, blog or Web site.
Join the announcements list so we can notify you about May 6th events in your area. Events that have already been planned are listed on the LibrePlanet wiki. Or take matters into your own hands and...
Organize your own event in your community. We'll make it easy for you with tips and info.
Make a video talking about the dangers of DRM, send it to us, and get ready to put it on video sharing sites on May 6th.
Draft a blog post to publish on Day Against DRM explaining the problems with DRM and why you won't buy anything infected with it.
Read more about 2013 International Day Against DRM to get ideas for May 6th.
Pick up an anti-DRM shirt to wear on May 6th. You're likely to receive it before then if you order no later than April 30th.
If you are affiliated with a business that sells DRM-free media, put them in touch with info@defectivebydesign.org about running a promotion for the day.
Can't do anything this year? Donate to keep the International Day Against DRM going strong.
Sharable graphics
All images CC BY 4.0 Defective By Design. Fonts are Junction and Catenary Stamp.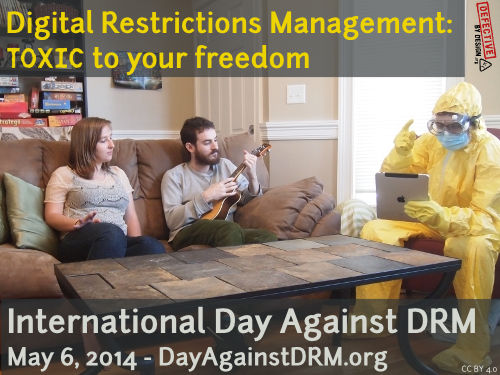 Download PNG image. | Download SVG source.
Social media cover photos

Download PNG image. | Download SVG source.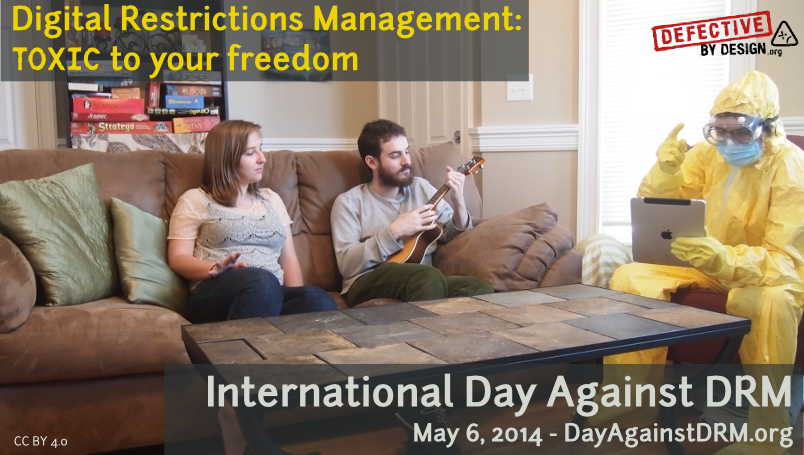 Download PNG image. | Download SVG source.
Want more sizes and shapes? Use the SVG sources to make your own (please email them to us so we can add them to this site), or let us know.
Planning an event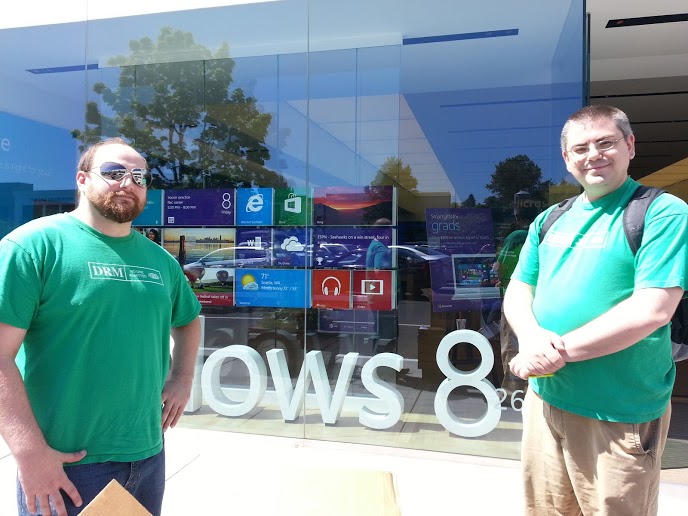 Organize your own event in your community and add it to the list. It's good to add it as soon as you have a date and contact info, even if you're still working out the details or the event is tentative. Here are some ideas for events:
Host a DRM-free music/movies/games party. Challenge yourself to make it so that none of the media at the event has DRM. If possible, host a concert by a band that releases DRM-free music. You can refer to our Guide to DRM-free living
Hold signs or hand out copies of DRM-free media and flyers about the issues with DRM (FOSS Bangladesh did this in 2013). You can refer to our DRM FAQ
Host a house party/discussion group
Protest a local store that sells DRM-encumbered products (community members did this in Seattle in 2013)
Write a letter to the editor of a publication
Speak to a local group or get on a radio/TV show (multiple groups did this in 2011)
The DbD campaign would be glad send a message advertising your event to supporters in your area. Just email the exact text of the message to info@defectivebydesign.org. Make sure to include the what, where, and when, along with your contact info for potential attendees. The DRM Elimination Crew discussion list (separate from the International Day Against DRM announcements list) is great for sharing ideas for events and getting feedback. And feel free to contact us directly at info@defectivebydesign.org with questions. We want to make event planning as easy as possible for you.