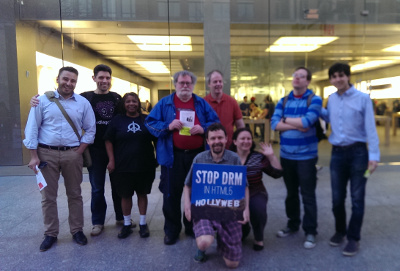 Activists protesting Apple's use of digital restrictions on the 2015 Day Against DRM.
In the last year, we've seen those that profit from Digital Restrictions Management (DRM) move to spread the world's most regressive DRM laws through the TPP trade agreement and pressure technologists to add DRM to Web standards. Their intention is to further strengthen the international system of law and technology that lets them weaken our security and curtail our freedom, in an effort to prop up a business model that is exploitative in the first place.
But the movement to regain control of our technology has grown and gained momentum since 2015's International Day Against DRM. In March we staged the first in-person protest against DRM in Web standards at the World Wide Web Consortium. The US Copyright Office finally started to listen to our protest of the US's draconian DRM anti-circumvention law, and issued a call for public feedback (we gave some, of course. People around the world took selfies against DRM. Every day, thanks to all of you, more people break through the media industry's smokescreen of misinformation and start to be concerned about DRM's threat to security, control and privacy.
On Tuesday, May 3, 2016, our global community will celebrate ten years of the International Day Against DRM. We'll be gathering, protesting, making, and sharing, showing the world and the media that we insist on a future without Digital Restrictions Management. Will you join us? Here's what you can do now:
Plan a gathering or protest action
Bring the International Day Against DRM to your community. We support event planners of all experience levels by supplying printable materials, putting you in touch with other activists near you and online, and publicizing your event for maximum impact. Check out the amazing list of events from 2015's Day for inspiration and dive into the event planning guide. If you're interested in planning an event but looking for help from someone in your area, join the DRM Elimination crew discussion list and #dbd IRC channel on Freenode, and introduce yourself.
Sign up for notifications as events are announced
Don't miss out on a Day Against DRM event in your area. Join the announcements list now!
Translate our flyer into your language
Even if you can't hand it out in your country, someone else might. All translations will be posted on defectivebydesign.org as they are completed. We've set up a translation area on the LibrePlanet wiki.
Draft a blog post or make a video
Share your unique perspective on the dangers of DRM, and get ready to post on May 3rd.
Join the conversation on the discussion list and IRC
The DRM Elimination crew discussion list and #dbd IRC channel on Freenode aren't just for event organizers. Join us there for year-round conversation and collaboration with the anti-DRM movement.
Can't do any of these?
Donate to support the International Day Against DRM. The Day is organized with love by a small team of activists at the Free Software Foundation.
Are you affiliated with a business that sells DRM-free media?
If so, we'd love to help you join the shops offering promotions for the International Day Against DRM, and tell our supporters about your business. Start by sending an email to info@defectivebydesign.org.