We've announced a new version of the DRM-free logo!
Awareness has been spreading among individuals, businesses and other organizations that DRM is a completely unnecessary restriction of freedom, and it drives people away. As that awareness spreads, going "DRM-Free" becomes more and more valuable for patrons. To really build upon that image and to provide a resource for people to learn about why being DRM-Free matters, we've created this logo for suppliers to to proudly advertise that their files all come unencumbered by restrictive technologies.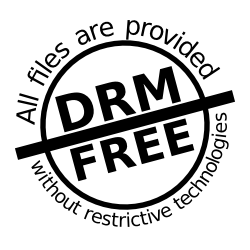 A more unified marker for DRM-free files that also educates downloaders about DRM is a powerful way to increase the value of being DRM-free. People looking for ebooks in places like Amazon often have trouble figuring out which ebooks have DRM and which don't because Amazon does not advertise that information. This label is a step toward solving that problem, making it easy for people who oppose DRM to find like-minded artists, authors, and publishers to support.
We are excited to already have a list of several first adopters using our DRM-free label. ClearBits, a BitTorrent distributor of various digital media, much of which is under free culture licenses, is displaying the logo in the footer of each page, and Go Faster Stripe, a distributor of DRM-free DVD's, has the logo on their about page. Music sharing sites ccMixter and TuneTrack display the label on each track's download page while independent record label, Magnatune, uses it on an about page.
As with our recent updates to the Guide to DRM-free Living, we have seen many more DRM-free ebook distributors. The self-publishing and ebook distribution platform, Foboko has the DRM-free logo embedded in the footer of each page, and Momentum Books, the digital-only publisher of Macmillan following Tor/Forge dropping DRM, shows the label on their about page. Girlebooks, a wonderful resource for classic and contemporary books written by women also has a DRM-free section on their about page.
Other first adopters include Weightless Books, a long-time opponent of DRM; O'Reilly Media, a publisher of technology books that has dropped DRM; The Pragmatic Bookshelf, a publisher of practical books for and by programmers that has been DRM-free from the start; Obooko, a distributor of free-of-charge and DRM-free ebooks; the ebooks library of the University of Adelaide, providing many books for free and all without DRM; Project Gutenberg Australia, a collection of books in Australia's public domain; and Project Runeberg, a similar project for Nordic literature.
We hope that you will support our first adopters and begin to look for the DRM-free label elsewhere. If you know of DRM-free file providers, please contact them about adopting the label for themselves. It is free to use for anyone who does not require DRM or other proprietary technologies to access their files, and doing so doesn't indicate or require endorsement by Defective by Design. If you would like to display the label on your site, please go to our DRM-free page. If you would just like to display that you are against DRM, we also have web graphics available to embed for that.
If you use the label, please drop us a line to let us know, and we may give you a shout out on our Blog or StatusNet µBlog: dbd@identi.ca. If you need help deciding whether you can appropriately use the label or if you need help going DRM-free, please email us at info@defectivebydesign.org and we will be happy to work with you.