Natale Vinto writes:

"I'm a student from University of Calabria (Unical) , Cosenza Italy. I write you because for the journey against drm on 4 May we (students) have done a small event to raise the academic world to the problem of DRM and I've sent you link of pictures of it (with a very large delay!)."
This is our favorite: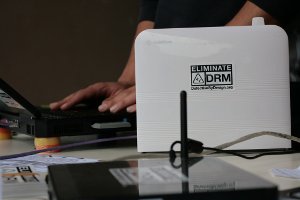 Got any DRM photos to share with the community? Every month we'll pick the best one, and maybe if we get enough we can make an DRM Elimination Crew calendar for 2012?
Send them to info@defectivebydesign.org -- please put 'DRM PHOTO' in the subject line.