During this year's International Day Against DRM we asked people who want to put an end to Digital Restrictions Management (DRM) to take action with us, and so many of you did.
In addition to the other activities of the day, we penned a letter to Netflix, asking them to remove DRM from their original productions. Since then, we've emailed the letter to the Netflix board, and sent a copy of the letter to their offices.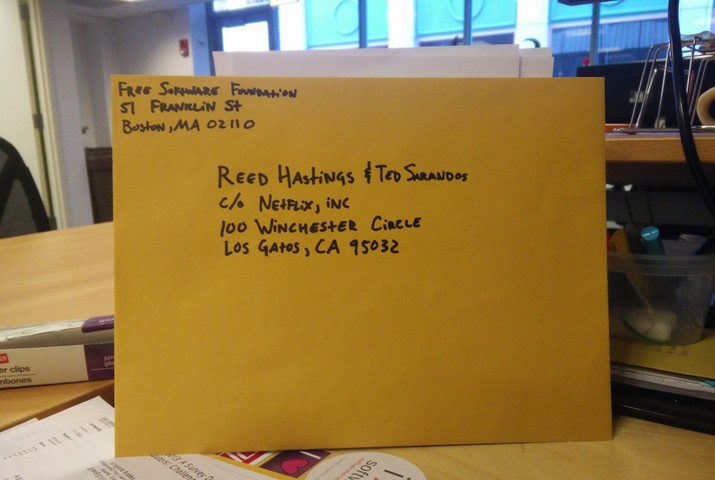 Netflix streams videos encumbered by DRM. They have blamed upstream media rightsholders--companies and individuals that own the distribution rights--for this since they first started streaming. However, as they have been leading production on more and more original material, the only people forcing Netflix to use DRM is Netflix.
Signatures came in from Argentina, Australia, Austria, Belgium, Brazil, Bulgaria, Canada, China, Colombia, Costa Rica, Croatia, Cuba, Czech Republic, Denmark, Dominican Republic, Egypt, Finland, France, Germany, Greece, Guatemala, Hong Kong, Hungary, India, Indonesia, Iran, Ireland, Italy, Japan, Korea, Luxembourg, Mexico, Montenegro, the Netherlands, New Zealand, Norway, Philippines, Poland, Portugal, Romania, Russia, Saint Lucia, Serbia, Singapore, Slovakia, South Africa, Spain, Sweden, Switzerland, Taiwan, United Kingdom, United States, Uruguay, Venezuela, and Vietnam. That's fifty-five countries!
We were excited to see the signatures come in. This action's global impact is very much reflective of a worldwide network of members and supporters that spans the planet. It drives home how DRM touches everyone interacting with digital media, and how we're all in this together.
We're inspired by the actions you take--from writing your own letters to signing ours, talking to companies and politicians, and standing up for your rights.
With large corporations and conglomerates controlling most of the media we have access to (and our access to that media!) it's hard to imagine how there can be a world without DRM. Can change occur when these license holders put harsh technical and social restrictions on media so pervasively that it becomes normal?
We think so, and we appreciate how many other people do, too. A big thank you goes out to everyone who signed the letter, as well as everyone else who participated in International Day Against DRM, and those who support Defective by Design's ongoing work through donations.
Even though International Day Against DRM happens one day a year, there are lots of actions you can take at any time.