Last Sunday, people around the globe spoke out against Digital Restrictions Management (DRM) through many channels at once. The International Day Against DRM was a confluence of activism to protect our rights and freedoms from the surveillance, unaccountable control, and security threat effects of DRM.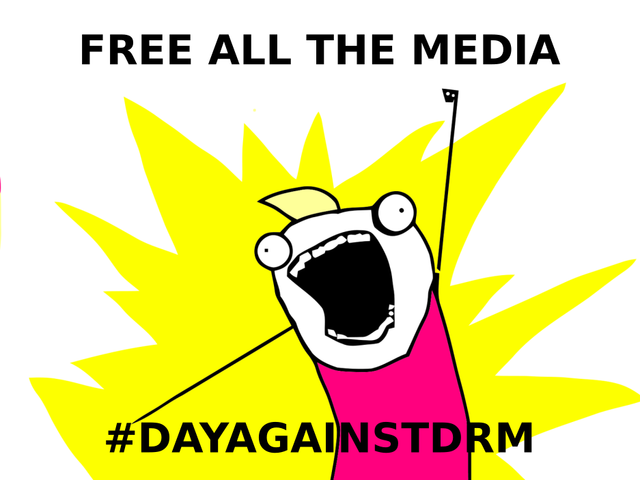 If you haven't already, please sign the petition, launched on Sunday, calling on Netflix to release its original productions from DRM. Netflix accounts for more than half of peak traffic in some countries -- we have to do this if we are going to move beyond DRM as a society.
For the Day, researchers at the University of Glasgow revealed new findings about the economic harm of DRM. The popular repair tutorial Web site iFixit asked its users to take a stand against the DRM that companies use to willfully prevent repair, while Italian organizers held a teach-in and repeated what's now become a tradition of 8-bit music parties.
A supporter wrote a rhyming poem lamenting that they could not share DRM-encumbered books. The founder of the Pirate Party pointed out the absurdity in letting companies effectively write copyright law into DRM code, and we published a post with media rights group Free Press describing DRM's threat to freedom of expression.
Once again, we set a record for the number of civil society organizations and DRM-free book businesses participating, as far apart as Germany and Bangladesh, broadcasting the message of the Day Against DRM to tech policy, literary, free culture, and hacker communities. The businesses offered discounts on ebooks, some of which are still ongoing. See the full list of organizations below.
The Day shows our efforts to raise public awareness about DRM are working. But our work is far from over. We need to keep sharing educational resources about the problem of DRM, taking action, and supporting DRM-free media. If you can spare $10 or $15 to help us hire more staff for our tiny Defective by Design team, we'd love that too.
Stay in touch
We'll be announcing the planning of the next International Day Against DRM soon. To be notified when we set the date, and to make sure you hear about International Day Against DRM events in your area, be sure to sign up for the announcement mailing list.
Defective by Design organizers and community members are also in our freenode IRC channel, #dbd, year-round. Come and chat with us!
Interested in organizing an event or media sale next year?
Please join the DRM Elimination Crew discussion list to stay in the loop as we ramp up to the next International Day Against DRM. We'll keep organizing them until we put ourselves out of business by eliminating DRM once and for all!
More info about the Day
Full list of organizations participating:
For a complete list of events which took place on and immediately before the Day, see the LibrePlanet wiki.
Until the next International Day Against DRM!
Image by Allie Brosh and is from Hyperbole and a Half. It is being used under Fair Use Laws.