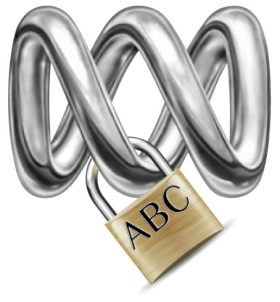 The Australian Broadcasting Corporation (ABC) is Australia's Federal Government-funded public broadcaster, and has responsibilities under the ABC Act 1983 to provide services to the Australian people.
The new ABC Shop has recently launched, with downloads of TV programs made available -- but only to Windows users willing to install Digital Restrictions Management (DRM) software on their computers. Like the BBC iPlayer, and Channel Four's "4OD", ABC is using the Kontiki platform -- Kontiki uses peer-to-peer technology to deliver the show to other people, so as well as locking you into its restrictions, ABC is using your computer, and your internet connection, to distribute programs.
ABC claims it has a commitment to "respecting legitimate rights to privacy and confidentiality", yet it is well-known that DRM is vehemently anti-privacy, and forcing Australian citizens to install proprietary, secret software from foreign corporations does not seem a good way to uphold privacy of its viewers.
We do not object to ABC charging money to download programs, only to their use of DRM. DRM isn't necessary for enabling sustainable production and distribution of media -- you don't have to look any further than our own guide to DRM-free living to see that plenty of artists and businesses are doing it.
Please contact ABC Online, and Senator the Hon Stephen Conroy Minister for Broadband, Communications and the Digital Economy Level 4 4 Treasury Place MELBOURNE VIC 3002 Ph: 03 9650 1188 Email: minister@dbcde.gov.au Web: http://www.minister.dbcde.gov.au If you're sending any emails, please CC them to us as well at info@defectivebydesign.org.
Let the ABC know you're writing to them from Defective by Design and that you don't want these restrictions on programs you've downloaded!
Point out that the DRM:
locks out people who use free software. A public service should not require citizens to install software that takes away their freedom in order to access that service.

forces ABC, a public broadcast service, to become dependent on Kontiki and Microsoft -- private, proprietary, secretive and profit-motivated corporations. These corporations, by turning off their DRM systems, can deny people access to the media permanently. This has already happened with Google Video, Major League Baseball, and others.

prevents citizens from making legitimate use of the media they've funded, such as taking clips for reviews and articles, or sharing interesting programs with friends.
Thanks to Andrew for bringing this to our attention. We try to keep up to date on as many things as we can, but we rely on readers and supporters to keep us informed and tip us off about things like this. Please keep sending tips and updates to info@defectivebydesign.org.