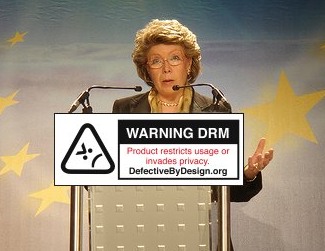 Action alert: Don't let the EU sanction DRM
Take action: Sign the Open Letter demanding that Viviane Reding retract her statement in support of DRM.
Yesterday, Viviane Reding, European Union commissioner for information society and media, issued a report sanctioning a "transparent" DRM framework for the EU. This irresponsible and senseless report comes just a day before Sony BMG announced that they would join Warner Music Group, EMI, and Vivendi's Universal Music Group in selling DRM-free music downloads in the United States.
Help us take action now by reading and signing our open letter. Our signed letter will be sent to the commissions office, and will add weight to the dozens of phone calls that will be made next week to her office demanding that she retract her statement and letting her know that we oppose any attempt by the EU to sanction, promote, or endorse DRM technology platforms.