In the last year, we've seen DRM spread into more types of products, with Mozilla giving in to DRM in its Firefox Web browser and the media fawning over Apple's DRM-laden "smart" watch. But more people are waking up to DRM's oppressive effect every day, and the the movement to regain control of our technology is growing.
On Wednesday, May 6th, 2015, activists across the world will come together to say no to Digital Restrictions Management.

Actions Against DRM
On Wednesday, May 6, 2014, our global community will come together for the ninth International Day Against DRM. We'll be gathering, protesting, making and sharing, showing the world and the media that we insist on a future without DRM. We expect this to be one of the biggest, most diverse Days of action against DRM ever. Whatever action you take, amplify the impact by spreading the word! Use the hashtag #DayAgainstDRM on social media.
Community Actions
Attend or organize an event in your area. See the current list of events, or announce your own, on the LibrePlanet wiki.
Expose the truth about DRM in your community, in person or online. Make use of our DRM FAQ and ebook DRM flyer, and contact us at to let us know about affinity groups who might join forces with us to fight DRM.
Join the conversation on the Defective by Design discussion list or the #dbd IRC channel on Freenode.
Make a Statement
Make a blog post, video or song telling the world why you won't buy any products that are locked up by DRM, and share it with us!
Write a letter to the editor of your local paper or favorite news site, describing your position on DRM.
Tell Mozilla to kick DRM out of Firefox.
Share our updated DRM-Free Living guide with your friends and family.
Participate in our campaign to push Netflix to drop DRM by canceling your account and telling them why.
Media Actions
Buy some DRM-free media from the DRM-Free Living Guide. Check back on May 6th for deals on DRM-free media through participating retailers.
Listen to gratis DRM-free Internet radio on Libre.fm.
Are you affiliated with a business that sells DRM-free media? Get in touch at info@defectivebydesign.org for more information on how you can participate in the Day!
Can't do anything on May 6, 2015? Donate or buy an anti-DRM tshirt to show your support for the International Day Against DRM.
Planning an Event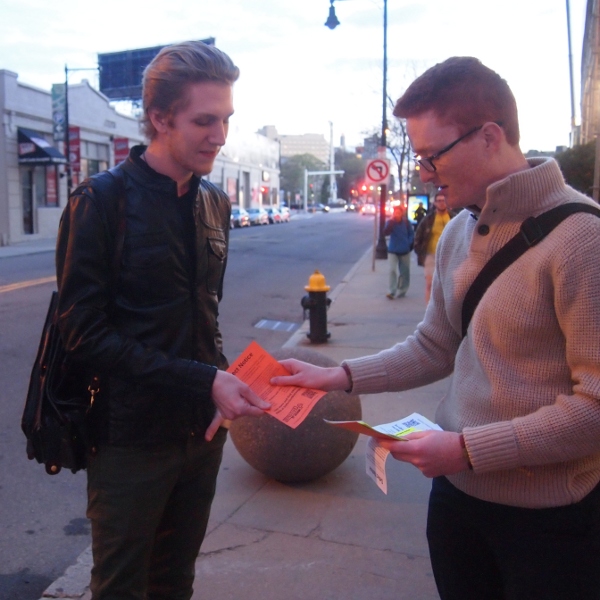 We've created this primer to make is easy to organize an event in your community on the International Day Against DRM. By having face-to-face interactions with people in your area, you have the chance to spread the word about DRM.
The guide is specifically oriented towards flyering events because they are fun and easy to organize, but most of it is applicable to other kinds of actions as well. Get a few friends together for a small event, or make a splash with a big one -- it's about spreading the message in whatever way is best for you. If you aren't able to hold your action exactly on May 6, don't let that stop you; DRM affects our lives every day!
When you know the basics of your event, please let us know at info@defectivebydesign.org and add the information to the events page. With your permission, the DbD campaign will send a message advertising your event to supporters in your area. The DRM Elimination Crew discussion list (separate from the International Day Against DRM announcements list) is great for sharing ideas for events and getting feedback.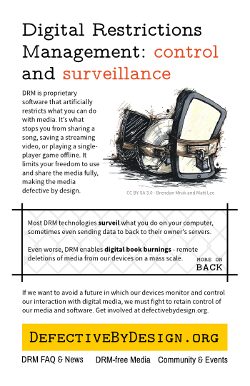 Print the double-sided flyer in color or black & white.
English
You'll need:
People
Flyers
A location, date, and time for the action
Sample timeline
Give yourself plenty of time to plan your action. It's possible to carry out an action on a *much* shorter timeline, but we recommend starting at least 2.5 weeks before your event.
2.5-3 weeks before the action: Pick a date and time and spot.
2-2.5 weeks before the action: Invite friends and members of anti-DRM groups or other interested communities.
Week of the action: Print flyers and prep any other materials.
Week of action: Send a final reminder about your invitation to those who have not RSVP'd, as well as a reminder to those who have agreed to attend.
May 6th: EXECUTE YOUR ACTION!
End your action with a social gathering for all involved activists.
Planning and promoting
Pick the date and location sooner rather than later. The more lead time, the more people will come. If you aren't sure where your action will happen, it's still worthwhile to send out a save the date. Once you select your date and meeting place, email us at . If you like, we'll send an email to anti-DRM activists in your area promoting your event.
If you're not sure what to say in your invitation, try our sample promotional email below. If you want to reach beyond your immediate friends and family, contact local anti-DRM groups like the LibrePlanet Defective by Design group, any projects to which you contribute, and your coworkers.
Plan a post-action social gathering. This is a good way to get to know other anti-DRM activists, and to end the action on a high note.
Selecting a location for your action
The best flyering spots:
Have high foot traffic.
Have passersby that have a reason to care about DRM, like customers at an electronics store or tech industry workers.
Are easily accessible, particularly by public transportation.
Are weather-appropriate: shaded if you live in a hot, sunny area, indoors if cold weather or rain is expected.
Possible locations for a flyering action include Best Buy, Windows stores, Apple stores, Walmarts, and malls including any of these stores. Be aware, if you attempt to flyer on private property, like inside a store, security may ask you to leave. It's best to stay outside the store, on the sidewalk or in the hall (if you are in a mall).
Printing flyers
The Defective by Design DRM flyer looks great in black and white or color, and is meant for double-sided printing. Your print run depends on the number of people you expect to participate. For a well-traveled area, we recommend 30-50 flyers per person flyering.
Flyering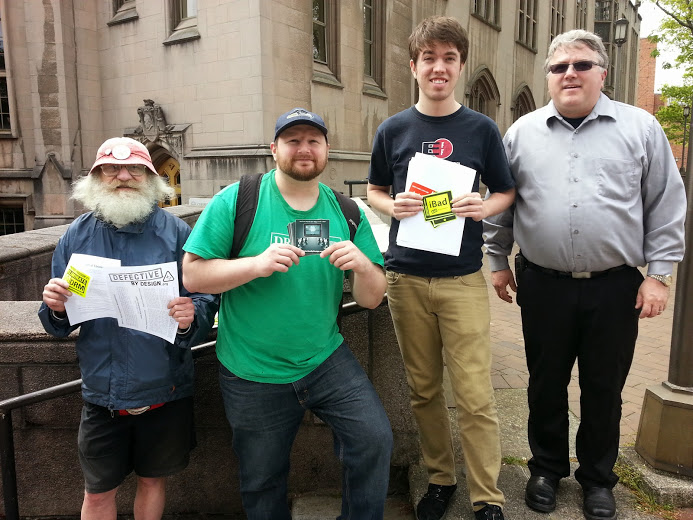 As organizer, your job is to make sure that everyone is comfortable and having a good time. Encourage participants to arrive 15 minutes before the action begins. This will give you the opportunity to distribute materials, give an overview of the location and the action, and let participants practice what they will say to passersby. Brainstorm "stop lines" - quick, compelling statements that will convince people to stop and talk with you. For example, "Does your music have DRM?" or "Do you believe in digital freedom?" It's also more fun to flyer in pairs rather than alone.
Relax and have fun! Some people won't want a flyer, but some will be excited to talk, and you will probably have some great conversations. A flyering event of 30 minutes to an hour is effective.
As the organizer of your event, you should inform all participants about what to do if confronted by a security guard or law enforcement. The safety and comfort of participants, as well as their behavior toward the public, is your responsibility. If anybody involved in the action is asked to leave by security or law enforcement, do so immediately and respectfully and head to another store near by, if possible. Be sure that all participants in the action are informed if the group is changing locations. When you are done, leave any remaining flyers somewhere that people will see them, on a bench or a table - and make sure they won't blow away, if you are outdoors. Finally, be sure to lead the way to the social gathering, or provide directions to anybody who won't be traveling with the group.
Don't forget to take photos of your action and send them to us at info@defectivebydesign.org! We'll post them on our Web site in our wrap-up post for the actions.
Sample promotional email
Title: Want to join me to fight DRM?
Hi friends,
I'm planning a special action on May 6th at time to spread the word about the dangers of Digital Restrictions Management for the International Day Against DRM. Day Against DRM (https://dayagainstdrm.org) offers tons of great flyers and other resources for spreading the word about DRM. A freshly updated flyer is here.
Want to join me and hand out some Day Against DRM flyers to shoppers, and then head over to social gathering place for food/drinks? Face-to-face conversations with our neighbors will help get the word out about DRM in a memorable, personal way, augmenting our online conversation and action against DRM.
We'll meet up at location at time, stay until time, and then head to social gathering place.
Please RSVP to let me know you're coming. Hope to see you there!
Sincerely,
Your Name Here
Have questions or suggestions for improving this primer? Email us at info@defectivebydesign.org.