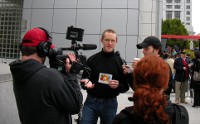 Apple is a prominent user of DRM--Digital Restrictions Management.
You aren't free to install the applications you want on your iPhone and iPod Touch. Apple is the final arbiter of which applications are allowed and which are not. Contrast this with your home computer, on which you can install any program you like. The iPhone won't play patent- and DRM-free formats like Ogg Vorbis and Theora, either.
Apple argues these measures are for "security." Security expert Bruce Schneier says that "With iPhone, 'Security' Is Code for 'Control'."
Apple is using DRM to severely hamper third-party software on future versions of Mac OS X.
Apple uses DRM to prevent Macs from playing video on "unauthorized" displays.
Apple sell DRM-laden movies and TV shows.
Apple uses their control of both the iPod and iTunes software to unfairly block competition from competing music players, or competing applications.
Apple does not publish the set of conventions, or "API", through which the iPod and iTunes communicate. Rather, they change it constantly. In many cases the only goal of these changes is to force customers to only use Apple products with iTunes and vice versa.
Action Area