Digital restrictions affect almost everyone, but most people have never heard of them. Today is one of our best opportunities to change that.
People around the world are coming together to say that we will not tolerate the remote deletions, unethical surveillance, and invasive restrictions of DRM. In fact, with events in at least nine countries and huge online participation, it's the world's biggest anti-DRM protest.
Take action or read a community post on dayagainstdrm.org, then talk about it on social media with the hashtag #DayAgainstDRM. Have as many conversations online and in-person as you can about why you oppose DRM.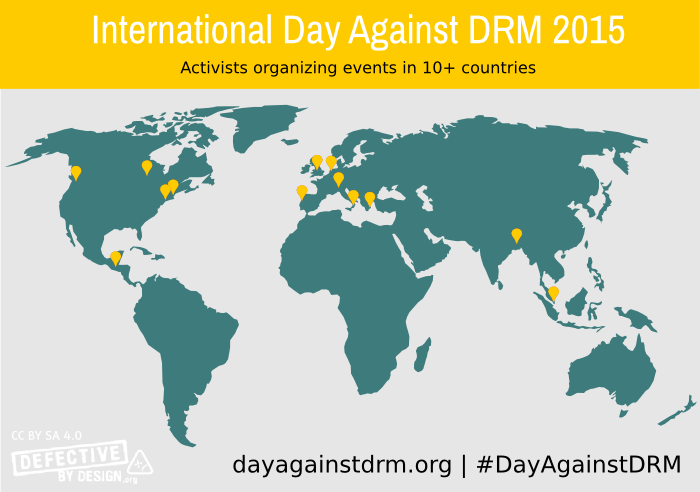 This year we're featuring community posts from people with unique perspectives on DRM: blind readers whose access to books is patrolled by DRM, an anti-DRM librarian, and a scholar and activist writing about the rise of DRM on streaming services. We hope you are as inspired by these people as we are, and that you will share these posts, as well. If you need a basic description of DRM as background information for your actions, don't forget to refer to our DRM FAQ.
In addition to individuals taking action, DRM-free ebook stores are offering discounts, including O'Reilly Media!
Happy ninth International Day Against DRM, and good luck with whatever action you take. I hope to see you at one of the events today, on the DRM-elimination crew discussion list or the #dbd IRC channel on Freenode.
One last thing—Defective by Design is powered by individual donations from people like you. If you can, please pitch in to support us so that our year-round work and next year's Day can be even better. All contributions are tax-deductible in the United States.