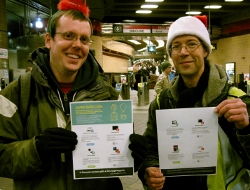 Santa's helpers (activists) about to distribute the Giving Guide to commuters
I'm writing this with chilly fingers, having just come in from handing out our DRM-Free Giving Guide on the sidewalks around Cambridge, MA's central shopping district with some other activists. A few of the passersby were savvy about the issues of digital freedom and privacy, but for most, it was the first time they'd heard of ethical technology. Interacting with both types of people was meaningful -- sometimes hilarious as in the case of the man that said "I'm already ethical enough" -- and it reminded me why the Defective by Design campaign is so important: though DRM touches the lives of almost everyone we know, a disappointing few even know what it is.
The goal of the Defective by Design campaign has always been to change that. Over the last year, we've doubled down on our communications and outreach, greatly improving the look and feel of our materials so that they put our their message front and center, without sacrificing the rigor and passion that makes DbD effective.
Will you pitch in $25 to help us fight DRM even harder in 2015?
In 2014 we've led the anti-DRM movement by:
and strengthened Defective by Design by:
Redesigning our Web site (with the help of a worker-owned Web development cooperative) to give our message the platform it deserves
Hiring Alex Patel, a dedicated student organizer, to help expand our work
Creating a refreshed Apple action area for people to oppose the company's sweeping mistreatment of its users
Launching a beautiful new version of our holiday Giving Guide with our parent organization, the Free Software Foundation, including discounts for the first time
We know this is but a fraction of what needs to be done if we are going to end DRM. We need more and better actions, many more educational and advocacy materials, and way more representatives pounding the pavement. If you agree, please chip in $25 -- if we don't defeat DRM, we'll be paying for it down the line.
In 2015 we want to stay agile and responsive to developments in the world of DRM -- which is, unfortunately, still expanding to include cars, coffee makers and who knows what next -- while building out our resources for those choosing to live life free of digital restrictions. We'd especially like to reorganize our Guide to DRM-Free Living to make its wealth of resources more discoverable, do a lot more organizing on college campuses, and find clever new ways to get our message in front of people, like viral memes, billboards, and stunts.
Help us make that possible with a contribution of $25 or whatever you can spare.
Thank you, and have a happy holiday season.