We have developed a dust jacket you can slip over any "dead tree" book that you are reading to warn others about the looming threat of DRM. Whether in school, in a coffee shop, or on the subway, it is an easy conversation starter about the insidious nature of DRM. We encourage all readers to use them, whether on the latest hardcover bestseller or the textbook you use in class (while you still have one).
True to our mission, we are also releasing the source files to these designs so that others may do the same. They are fully editable and translatable in Scribus v1.5+, so feel free to print, share, translate, and give away your own printed copies to readers and anti-DRM activists in your area.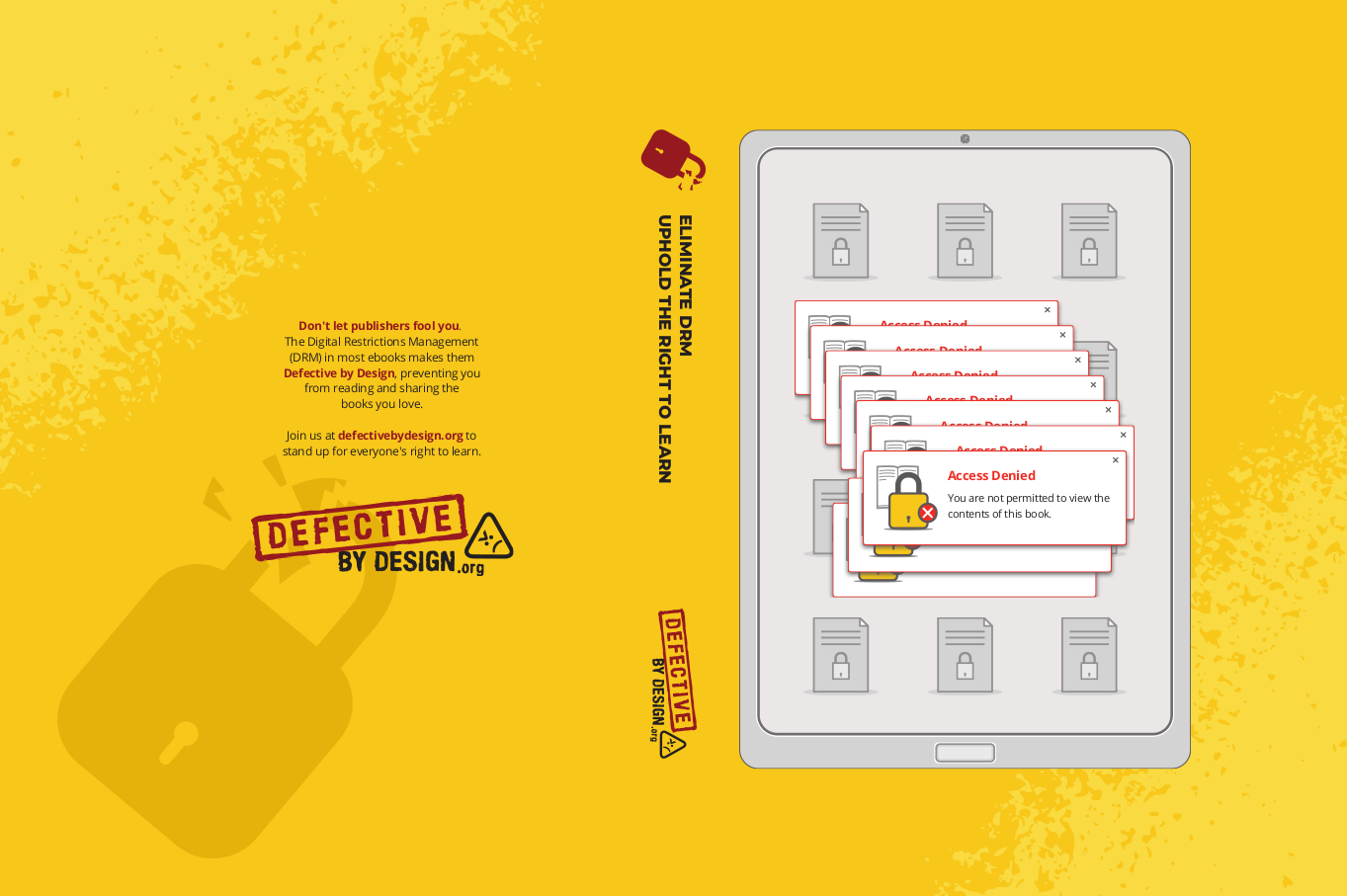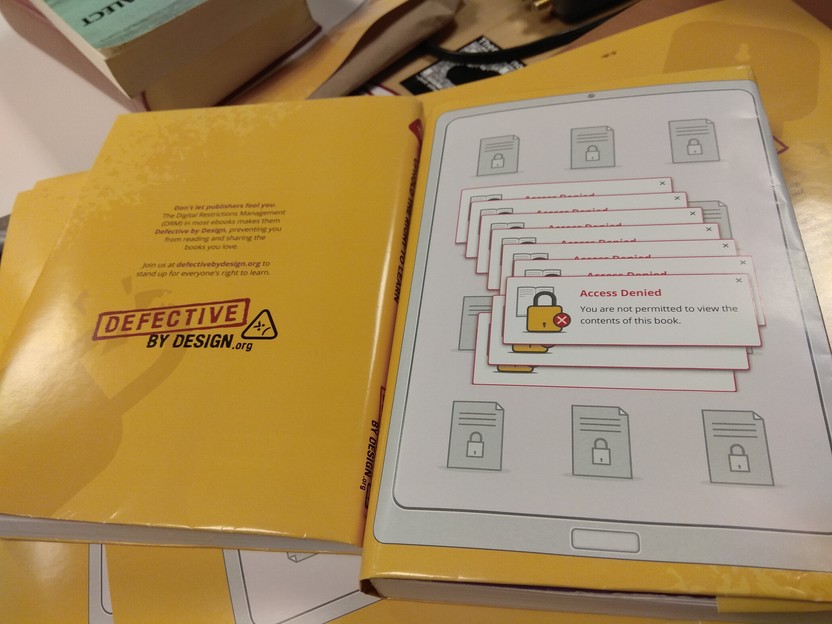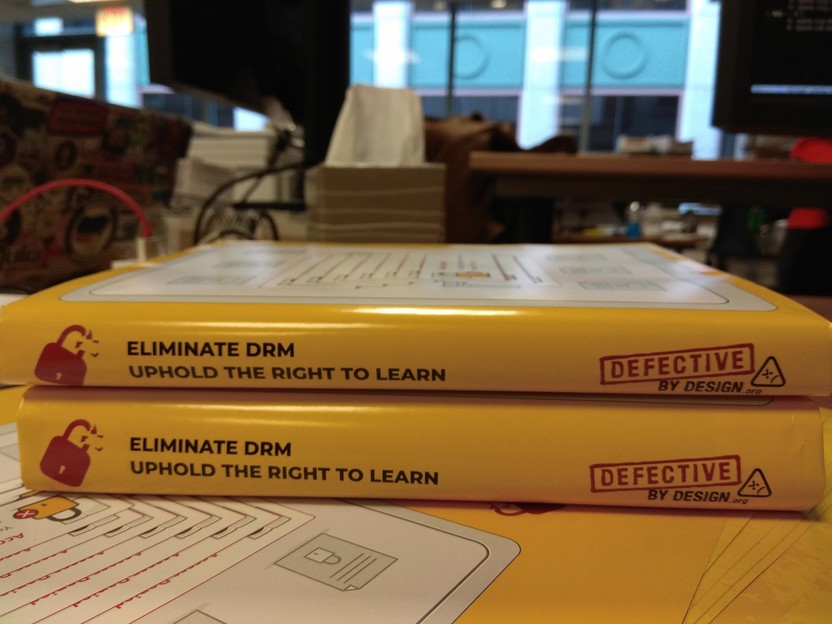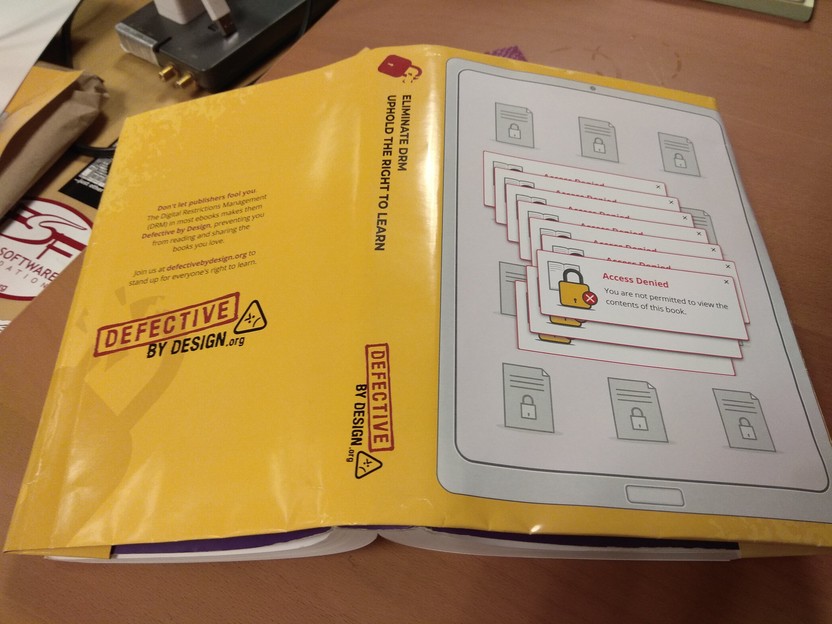 All designs and photos are © Free Software Foundation Inc., 2019, and are licensed under the Creative Commons Attribution-ShareAlike 3.0 Unported (CC-BY-SA 3.0) license.
Very special thanks to our designer Raghavendra Kamath.
Files and sources
How to print and fold
The included PDFs are intended for being printed on 12x18" paper. For ours, we used 80lb paper stock that should be available (and cheap!) at any professional print shop.

Once you have your cover, center your book on the sheet. Then, fold the top and bottom excess equally to match the height of the paper.

Fold the left side inward until it touches the page of your book. Then, slip the left side of your book into the pocket this creates. Repeat this process for the right side.

Align the front cover of the dust jacket with the front cover of your book. You may need to adjust the folding slightly depending on its specific size.

Smooth the edges and read in style, cautioning others against the threat of ebook DRM!