In the last year, we've seen DRM spread into more types of products, with Mozilla giving in to DRM in its Firefox Web browser and the media fawning over Apple's DRM-laden "smart" watch. But more people are waking up to DRM's oppressive effect every day, and the movement to regain control of our technology is growing.
On Wednesday, May 6, 2015, our global community will come together for the ninth International Day Against DRM. We'll be gathering, protesting, making, and sharing, showing the world and the media that we insist on a future without DRM. We expect this to be one of the biggest, most diverse Days of action against DRM ever.
The Day is in a month, but you can get started now. Here's what you can do today, on dayagainstdrm.org: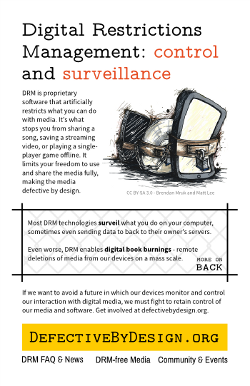 Print the double-sided flyer in color or black & white.
English
We'll keep in touch with more info leading up to the Day, when we'll use the site to coordinate actions and events. Until then, let's spread the word so that this can be the most powerful International Day Against DRM ever.
---
P.S. Are you affiliated with a business that sells DRM-free media? If so, we'd love to help you join the shops offering promotions for the International Day Against DRM, and tell our supporters about your business. Just email info@defectivebydesign.org for details.