Defective by Design is supported by memberships and donations to our parent organization, the Free Software Foundation. On Monday, the Foundation launched its yearly fundraiser with the goal of welcoming 500 new members and raising $450,000 before December 31st. If you have the resources, please support our work against DRM: make a donation or join as a member today.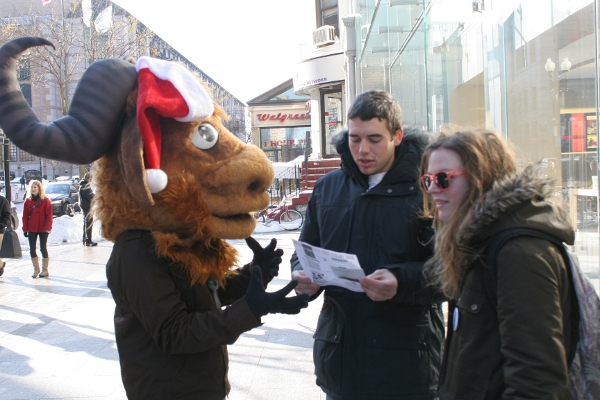 An activist sharing the Giving Guide at a Giveaway.
Electronics are popular gifts for the holidays, but people often overlook the restrictions that manufacturers slip under the wrapping paper. From surveillance to harsh rules about copying and sharing, some gifts take more than they give. The problems include DRM but go beyond it – any device running proprietary software, instead of freely licensed software, is a locked box its users can't control or understand.
The good news is that there are ethical companies making better devices that your loved ones can enjoy on their own terms, free of restrictions and DRM and proprietary software. Today, we're launching the 2016 Giving Guide, your key to smarter and more ethical tech gifts.
Explore the Giving Guide online and in print. To sweeten the deal, many of the recommended gifts are specially discounted for the holiday season.
If you appreciate the guide, we invite you to to spread the word about it. Here's what you can do:
Lead a Giving Guide Giveaway at a local shopping area to show that conscientious giving applies to computers and software. We've prepared a primer to answer common questions and help make your Giveaway a success.

Share the guide on social media with the hashtag #givefreely and comment about it on gift or tech-related online articles.

Email it to your family and friends – heck, you might even get a gift out of it!
Some translations are already available, but we need more volunteers to port the Giving Guide to their own languages. Check out the primer page for translation instructions.
Millions of people will open tech gifts this holiday season, and most of them will be walled gardens encumbered with nonfree software and DRM. But things are changing. With each year, our message spreads further and more people start thinking critically about technology and voting with their wallets. Join us in fueling the movement for ethical tech – use and spread this guide.