We now have an official winner of our sticker design contest announced in April. Our old stickers depicting the shackles of DRM went well with Apple's iPod advertising at the time, but now, with Apple's new developer licensing agreement and the release of the iBad, their latest restriction, our anti-DRM sticker is in need of an update.
So, without further ado, we are pleased to announce Jeremy Todaro is the winner of our Defective by Design sticker contest for his accurate portrayal of Steve Jobs as Big Brother. Jeremy is a freelance artist from Wentzville, Missouri who specializes in using free software tools for his work. Well done Jeremy!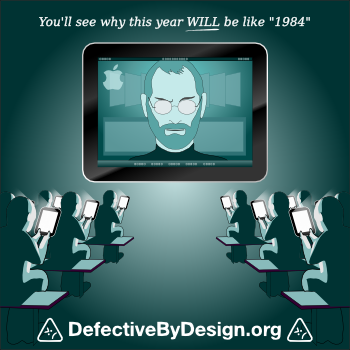 Runner-up prizes will also go to Andreas Marschke, Valessio S. Brito, Diego Trujillo and William Demchick for their contributions.

This work is licensed under a Creative Commons Attribution-Share Alike 3.0 United States License.